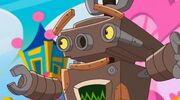 Wingnut is a very friendly robot, from Care Bears: Adventures In Care-A-Lot. He used to work for an evil bear,Grizzle, but after he meets Oopsy he become close friends with him that gave him the courage to betray Grizzle, and be with the Care Bears.
Ad blocker interference detected!
Wikia is a free-to-use site that makes money from advertising. We have a modified experience for viewers using ad blockers

Wikia is not accessible if you've made further modifications. Remove the custom ad blocker rule(s) and the page will load as expected.