Play-a-Lot Bear is a Care Bear who was first introduced as a plush toy during the the 2002-2006 franchise re-launch toyline. He has light blue fur and his Belly badge is a violet bouncing ball with a red heart stamp followed by a rainbow trail.
While most Care Bears probably wouldn't pass up the opportunity to have some fun or join in a game, Play-a-Lot takes his leisure activities to a whole other level. Though not as competitive as some of his other physically-inclined compatriots, he's more interested in just having a good time and spreading the joy of camaraderie to others. If all work and no play make someone a dull bear, this guy'll never be stuck in the doldrums.
In other languages:
Japanese: プレイアロットベア
Spanish: Juegosito ("Game Bear")
2000s series
2002-2006 toyline
Play-a-Lot made his debut during the Care Bears franchise relaunch in the early-to-mid 2000s, and has since appeared in several different toy varieties, including a 13" cuddly plush, an 8" plush with baseball cap, and a limited edition 13" blueberry scented plush packaged with a Care Bears Family episode DVD.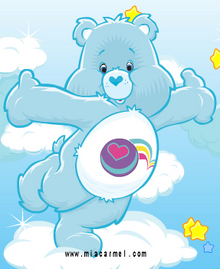 Adventures in Care-a-Lot
Though he did not appear in the animated series itself, Play-a-Lot did receive a redesign similar to the characters in the Adventures in Care-a-Lot cartoon, and was included in its corresponding toyline. This version appears nearly identical to his original design, but with a slightly modified Belly Badge that changes the shape of the rainbow trail to a heart and makes it plain red instead of multicolored. This version was made available as an 8" beanie plush
Notes