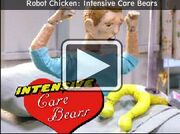 Intensive Care Bear is a class of Care Bear referenced in both "The Simpsons" and "Robot Chicken". They are treated different in both shows. The Simpsons episode aired in 2003 and the Robot Chicken episode in 2007.
These are parodies demonstrating the Care Bears' influence on popular culture and are not part of any official canon universes.
Simpsons
Homer: "Are you a Care Bear?" ICB: "I'm an INTENSIVE Care Bear." Homer: "Why does a bear need a crow bar?" ICB: "I don't like to get my hands dirty."
External links
Robot Chicken
Simpsons
Ad blocker interference detected!
Wikia is a free-to-use site that makes money from advertising. We have a modified experience for viewers using ad blockers

Wikia is not accessible if you've made further modifications. Remove the custom ad blocker rule(s) and the page will load as expected.