Hopeful Heart Bear is a Care Bear who was first introduced as a plush toy in 2005 during the early-to-mid 2000s Care Bears franchise re-launch. She has light fuschia fur and her Belly badge is a pink heart emitting multicolored rays of light.
Absolutely brimming with hope, happiness, and positivity, Hopeful Heart's the kind of bear that will tell you everything's going to be all right in the end. She's the type that sees the silver lining around every dark cloud, and knows that no matter how dire a situation may seem, there's always chance to make things better. It takes a lot to get this girl down, but even if that happens you can bet she'll be back to her old self in no time flat.
2000's series
2002-2006 toyline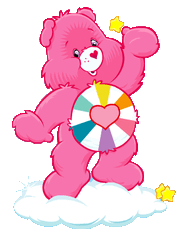 Hopeful heart made her debut as a plush toy in 2005 during the Care Bears franchise re-launch of the early 2000s, and has since been made into a number of different novelty items. These include a 14" large plush, 12" fluffy plush, 10" butterfly costume plush, and an 8" limited edition peppermint-scented plush.
Adventures in Care-a-Lot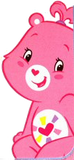 While she doesn't appear in the series itself, Hopeful Heart received a re-design just after her debut to match the new character designs of the Adventures in Care-a-Lot cartoon, and has been featured in its associated toyline. She remains mostly the same, except her hair is now tied up in a lavender scrunchie and the light rays on her Belly Badge now come in only three colors instead of six. This particular version was released as an 8" beanbag plush and 10" regular plush by Play Along.
2010's series
Welcome to Care-a-Lot
Hopeful Heart, along with most of the other care bears, received a redesign for the 2012 reboot, Care Bears: Welcome to Care-a-Lot. She has appeared both in plush form and as a toy in the form of a blind-bag mini-figure.
Trivia
In other languages:

German: Hoffnungsbärchi ("Hope Bear")
Japanese: ホープフルハートベア