Heartsong Bear is a Care Bear who debuted as a plush toy in 2006. She is a polo blue and her belly badge depicts a multicolored music note surrounded by similarly colorful small hearts.
Like her friend Harmony Bear, Heartsong is all about music, and isn't picky about what she listens to. There doesn't seem to be any moment where a song isn't knocking around in her head or coming out her mouth. Her talent is being able to turn any feeling or mix any sound into an appropriate song for any situation. If music is the universal language, consider her a diplomat.
In other languages:
Japanese: ハートソングベア
Spanish: Musicaosita ("Music Bear")
2000's series
2002-2006 Toyline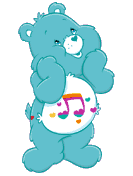 Heartsong made her debut in 2006 during the Care Bears relaunch toyline. She was made available in several varieties, including comfy plush, "troll hair" plush, and 8" and 12" varieties. Her 12" variant came packaged with a Care Bears Family DVD.
Adventures in Care-a-Lot
Heartsong received a redesign only a short time after her debut to emulate the style of characters from Adventures in Care-a-Lot, with a curly tuft of hair tied up with a pink heart clip, and her belly badge now has only three hearts instead of five. While she doesn't have any speaking lines in the series itself, she does appear in its corresponding toyline.
Notes
Heartsong's Belly Badge highly resembles the design of Harmony Bear's from the 1980's UK/Australia toyline, only with two music notes instead of three.