Champ Bear is Care Bear who has appeared across nearly all Care Bear generations.
Appearance & Personality
Champ Bear is a real sports star. He's great at every sport, but he's even better at sharing the real prizes of sports: fun, fitness, friendship and learning to be your best. He even shows this with his symbol: a golden trophy with a heart, (despite it originally featuring a star!)
He is called Champ Care Bear in some merchandise.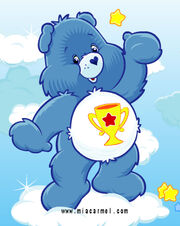 In other languages:
Croatian: As ("Ace")
Dutch: Kampioen Beer ("Champion Bear")
French: Groschampion ("Big Champion")
French (Canadian): Champinnours ("Champion Bear")
German: Sieger Bärchi ("Winner Bear")
Italian: Superorso ("Super Bear")
Japanese: チャンプベア
Norwegian: Superbamse ("Super Bear")
Portuguese: Campeão ("Champion")
Spanish: Campeoncito ("Champion Bear")
Spanish (Argentina): Osito Campeon ("Champion Bear")
Spanish (Spain): Campionorso ("Champion Bear")
Swedish (Cartoon): Guldnalle ("Gold Bear")
Swedish (Comic): Hjältenalle ("Hero Bear")
Ad blocker interference detected!
Wikia is a free-to-use site that makes money from advertising. We have a modified experience for viewers using ad blockers

Wikia is not accessible if you've made further modifications. Remove the custom ad blocker rule(s) and the page will load as expected.