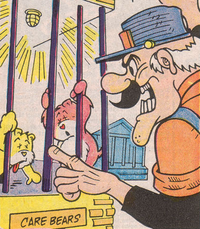 The Caretaker is a villain from the Care Bears comic book series who appears in the issue 12 story "Taking Care of Busine$$". He is a man with white hair and a large black mustache who wears an orange shirt with blue overalls and cap. As head zookeeper at the Metro Zoo, the Caretaker longs to a add the most exotic of all animals, the Care Bears, to his collection to drum up business.
Comic series
When the Care Bears receive an invitation to visit the new Metro Zoo a new before its official opening, Cheer Bear, Funshine Bear, and Wish Bear jump at the chance, unaware that the whole thing is just a ruse created by the Caretaker to capture them. After luring them into a cage, he traps them inside and activates his "No Quite Light" that drains their special powers, leaving them helpless.
While watching a news report that his friends will be on display, Grumpy Bear heads down to Earth to save them. After cutting power to their cage, Wish Bear uses her badge to wish that the bars were really candy canes and breaks out easily. After confronting the Caretaker, he reveals that he only did it raise enough money to take care of the rest of the animals that he loves so much. The bears forgive him in the end, and even agree to make a special appearance during the grand opening to attract more visitors. Care Bears Issue 12
Ad blocker interference detected!
Wikia is a free-to-use site that makes money from advertising. We have a modified experience for viewers using ad blockers

Wikia is not accessible if you've made further modifications. Remove the custom ad blocker rule(s) and the page will load as expected.