America Cares Bear is a toy-exclusive Care Bear who was first sold as a very limited release in 2003. She is solid white and her Belly badge depicts a blue and white shooting star with a red and white-striped trail.
She is a happy, patriotic, and energetic bear who believes that America's greatest strengths are caring, helping others, and teamwork.
Toys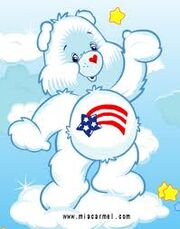 America Cares Bear was first released as a collector's edition plush toy by Play Along in 2003 to help celebrate the 20th anniversary of the Care Bears franchise. She was since made available in several variants, including loose and boxed versions.

In other languages:
German: Amerika-Bärchi ("America Bear")
Japanese: アメリカベア ("America Bear")
Ad blocker interference detected!
Wikia is a free-to-use site that makes money from advertising. We have a modified experience for viewers using ad blockers

Wikia is not accessible if you've made further modifications. Remove the custom ad blocker rule(s) and the page will load as expected.